What Are Push Notifications?
Well, push notifications are just like the short messages delivered to the desktop or mobile of push subscribers. Have you noticed those little banner pop up at the top or bottom on to your desktop or mobile? It is called push notifications or push messages because they are instantly and directly pushed to the subscribers through web browsers like Chrome, Firefox, Safari etc.
These are different than notifications from an "app" on mobile those you are familiar with. We are talking about browser notifications also known as web notifications.
Examples of push notification
If you are recieving the pop ups like one above, you have allowed and agreed to recieve the push notifications from the businesses by subscribing to their push list. Now tell me, what you do when you recieve such messages popping out on your desktop?
I know, you just can't stop to clicking on it because unlike the email, they are attractive and straight to the point.
WHY? Let's see…
Why Push Notifications Are So Effective Than Email?
Do you want to build a list of hungry buyers into your business? Then building a list of push subscribers is far more effective and profitable than email subscribers list. This is my personal opinion. And here is why…
If you compare the results from 1000 push messages and 1000 email messages sent out, you can see the money made from the push messages is 15 time more than emails. And, the Click Through Rates (CTR) is also higher that emails.
Why it is happening? Because…
Our brain is more attractive towards visuals and graphics than texts. Human brain process and analyze the graphics and images in just 13 milliseconds, research said! This is the first reason push messages having a graphic at first sight get higher CTR on these notifications.
The another problem with email is you are flooded with emails from different marketers and businesses… and inbox is just overflowed…
Just imagine, if you are an email marketer sending autoresponder emails every other day… do you think your email subscribers find your emails easily? Unless you are great copy writer and know how to write compelling subject lines that get open, you are going NOWHERE!
Web Push Notifications Vs Emails
Offcourse, my answer is the first one. And, this is why push notifications are far more better over emails…
Instant Subscription- No name or email required to subscribe – just one click and they're on your push list…
No Autoresponders- Therefore no monthly expenses, getting banned or worrying about deliverability…
Higher Open Rates- As you are not building a common list of emails that subscribed to 1,000 other marketers… no competition.
Higher Click Rates- Because you send directly into people's browser…
Not Needed To Be Copywritter- No need to write "clever" email subjects or long "copy". Get a catchy image, write a sentence and send in 1 minute!
Push messages work because they send big, visual graphics and images & CTA buttons – right into the subscribers browser window. And they do it quickly & directly, with images, text & CTA button…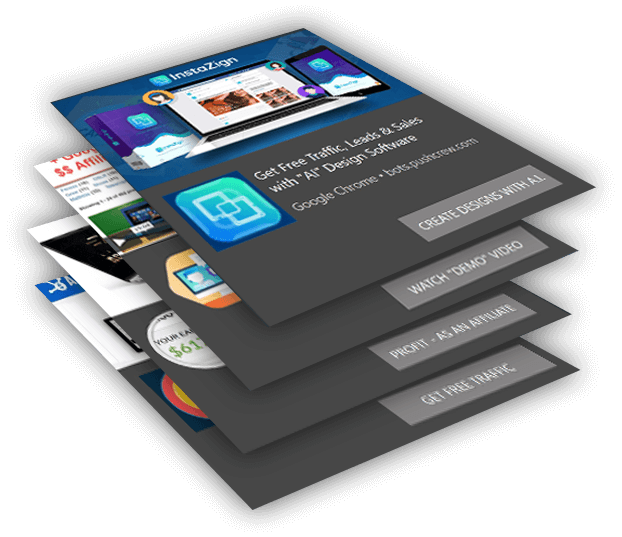 What Do You Need to Build a Browser/Web Push Subscriber List?
Upto this point you have understood the importance and benefits of PUSH. And now you wanted to get started with it. Before I tell you about how to setup push notifications, you will need some tools handy to setup your push messages campaigns.
Like an email autoresponder service, you will need the 3 main things to get started…
1. Lead Magnet or Free Offer
Offer something valueable gift, bonuses, pdf, videos or ebooks etc. This will be the reason for people to subscribe your push list. Choose something great that will relief your audiences pain they are struggling with from long time.
In this way you will build a list of highly motivated and targeted people who will lastly increases your CTR and hence the more more for you!
2. Best Push Notifications Software or Service
This is a program built to collect and manage all your leads and pushes notifications to subscribers browser, just like an email autoreponder services. If you google it, you will find 1000s of free website offering you a push service with limited access or limited features. And, at some point they will start pushing you towards upgrading your service.
If you are serious enough and want to build a sustainable business from the very beginning, I would suggest to invest in best push notifications software. Many software comes with ONE TIME purchase and resell rights or agency liecence.
That means, you will not need to pay again a dime and you can build a list of unlimited subscribers. If you want to readily equiped with one such push software, Pushpro is one I'm using personally and going to demo it in the later section below.
3. A Website With Editing Access
When you have 2 tools above, your next requirement is a website. You will need a website with editing access where you can add your optin-code for push notifications subscription. If you don't owned a website yet, I highly recommend to get one. It will help brading yourself to get more like, trust in your marketing efforts. I have covered choosing website in more depth in my affiliate marketing guide and email list building article.
If it is not possible for you to invest in website, go for free blogging platforms like blogger.com or wordpress. One more platform I would suggest is where you can create best landing pages and add or edit any html code is LeadsLeap. If you are ready with these 3 tools, you can start setting up your push list building… Let's see how to do it.
How To Setup Push Notifications On Your Website?
As said before, let me show you how push technology is working and how to setup to build your push list with demo account… When you login to your pushpro notifications software, you will see the various option as shown in the image bwlow.
Step-1: Create a list.
Click on lists menu and enter the list name in the box next to the Title. Then Save it. In the image above you can see the list name I have created for example – Day Job Killer.
Step-2: Setup the optin- message…
Click on optins menu and create new. According to your lead magnet, write a comelling headline and enter short description about your offer. Enter call to action button text and upload your lead magent image… then save it.
Step-3: Create and add follow up messages.
These messages will automatically pushed to subscribers desktop or mobile device thru which they have subscribed. Very simple, right? As said previously, you don't need to be a copy master. You don't need to write long emails to convince your subscribers.
Just write 2 lines, enter CTA text, get one eye-catchy image, enter your affiliate link and send it. Your messages will be delivered instantly to subscriber's desktop as notification popup if he/she is online. Go thru the image below and setup your followup notifications for certain days. Follow this same process for creating boradcast messages.
Step-4: Getting the Optin-code.
You have created a list, created an opti-in message and setup followup messages too. Now it's time to obtain your list opti-in code to add in the website.
After clicking on embed link, you will be taken to the following screen…
Enter the requested details. Copy the entire optin-code derived from the details and paste this to your website HTML section. Here your push notifications setup is completed and you are ready to get traffic to your website. Start advertising for your website. And see your push subscribers list is growing fast…
Push Notifications Best Practices
Web push is the powerful list building technology when done it right your list building efforts will pay off. But 99% of the marketers make huge mistakes with push notifications. What are they?
Choose your niche market and build your free offer or lead magnet that is going to solve their particular problem immediately after getting your guide.
2. You should have a website talking about your lead magnet and add your push code to related page only. For example, if you build a lead magnet on topic say "how to loss weight in 7 days" and if you add your optin code to a website talking about "how to play golf" then you are going NOWHERE. You will only get blocked by visitors insted of joining you.
3. Adding your push code is not recommended for every single page on your website. It will make popup annoying to your visitors and they will bounce fast. Instead create a seperate page called squeeze page and add optin code to this page only. Visit this link to see it in action: https://newbiesmoney.com/join
4. It is recommended to use double optin push code like one in above link when you promote to general public. When people know you or your website by optin to your one of the lists or buying something then you can choose single optin code like one below…
One PRO Tip: There's no meaning in pushing to 1,000 push subscribers… if nobody clicks! To get rid of this, I would suggest you write your push messages from proven templates. For that either subscribe to a few push lists in your niche (to see what works), or start with the proven templates inside PushPro
So The Conclusion of Push Is…
The operating concept of email list building and push notifications list building moreover the same. Both needs a lead magnet, a software or service, a website and visitors. The 2 thing that gives power to the push messages are it get delivered directly to the desktop or mobile instantly if their computer is ON or once they starts their computer on ther day.
The second bonus point of push over email is it can deliver BIG picture to get immdeiate attention of subscribers at first place. So chances are they open it quickly and see what are you offering… No need to go to the inbox, find your email from 100s if not 1000s of other emails then open your email, read the long contents and click on buy link.
Push notifications are fast, instant and direct. No deliverability issues unless your domain get blocked or unsubscribe. What would you send- a Push or an Email? Write to me in the comment. Hope you got everything about what are push notifications and how to use it effectively to make more money buidling your buyers list..
Vote by comment if you liked this article and spread the good!
-Santosh Mali
Join my Telegram channel!